---
---
Relieve fatigue and prolong seating comfort with The G-Seat.
Made for sufferers of low back pain, arthritic or degenerative hips, stiffness, leg numbness, poor leg circulation, sciatica, and varicose veins.
---
Ideal for use in church pews, car seats, picnic benches, stadium seating, concerts, sitting on the ground, camping, internet cafes, coffee houses, etc.
Perfect for those with Coccydynia (tailbone pain), hemorrhoids.
For sufferers of low back pain, arthritic or degenerative hips, stiffness, leg numbness, poor leg circulation, sciatica, and varicose veins.

Helps prevent pressure sores in diabetics of those confined to a chair or wheelchair – See the NEW G-SEAT MOBILITY.
Center relief groove eliminates soft tissue compression and suspends the tailbone (coccyx), eliminating direct pressure on the spine.
Gentle forward slope enables proper lumbar curvature while seated.
Gel disperses pressure more effectively than standard foam seating, relieving pressure points and enhancing circulation.
The G-Seat incorporates the premier material in gel technology, which maintains its shape and cushioning properties better than any polymers and foams currently on the market. It provides relief from the stressful affects of being seated for long periods of time, like low back pain, stiffness and numbness in the lower legs.
One-year limited Warranty from the manufacturer.
The most innovative development of the G-Seat is an integrated handle that folds the seat in half when you carry it making the G-Seat conveniently portable. There is no other product like it!
Because of superior materials and functional design, we feel that GSeat is a premier portable product for seated comfort. We think you will too.

---
Theory and Origin of Design:

---
As scientists and ergonomic experts study the negative impact of sitting on the human frame, they face a difficult task. They recognize that when we sit, the great majority of our weight is transmitted to the seating surface through two relatively small points called ischial tuberosities with a total surface area about the size of the head of a baseball bat. for grins, imagine sitting on two vertical baseball bats, one under each cheek–"Ouch." This would suggest that our anatomical design was not really intended for the duties of the sedentary culture we have become. Thus much of the effort in seat design is focused on helping to distribute the body weight over a larger surface area of the seat. Although our bottom half is often the most padded region of our body, it is clear that we were not really designed to sit very long. We certainly are not designed to handle much pressure being applied to our tailbone. It is not supposed to bear our body weight when we sit. Poor chair and seat design, resulting from lack of understanding of functional human anatomy, has led to a lot of discomfort when we sit for prolonged periods. If the seating surface is flat, like in a stadium seat, church pew, or picnic bench, it really amplifies the discomfort by trying to take our poor round bottom and flatten it out so all the boney structures inside bottom out (excuse the pun). Hence, one of the goals of making us comfortable when we sit is to have our seating surface adapt to our shape and thus evenly distribute the our weight on the seat. The unique and wonderfully comfortable gel in the G-Seat does a great job adapting and dispersing weight. The auto-folding feature and associated compact size/weight of the gel seat makes in the perfect portable companion with many applications.
---
The New and Improved G-Seat Technology has finally arrived and is available for immediate shipping. The long process of re-tooling and gaining FDA approval is now over. It features the following improvements:
The new model is made with Dynamic Density Technology, a bonded Gel/ Memory Foam hybrid material that enhances the comfort of gel alone with less weight than all gel would be.
The new G-Seat is 16″ wide, 13.5″ deep and 3/4″ maximum thickness. The MOBILITY model is 18″ wide, 16″ deep and 2″ maximum thickness.
Rather that using a heated adhesive to hold the seams, the new GSeat has radio frequency welded seams for enhanced quality and durability.
USING THE G-SEAT: Please note that the Gseat is formed with an anterior (forward) tilt or seat wedge like design.
This requires that it be properly placed with the thinner side forward, in order to get the true benefit that can be derived.
This facilitates an ergonomic forward pelvic tilt that helps the hip joint, improves the posture of the spine and can aid with sciatica.

---
Our Deluxe Mobility GSeat Cushion
---
The deluxe Mobility GSeat is a plush 2 inches thick in the main seating area toward the back. It uses polyurethane gel to disperse pressure at the point of contact, while also featuring a center relieved groove that eliminates pressure on the the tailbone and soft tissue. There is nothing else currently on the market that compares in comfort and postural support.
Dynamic Density Technology combines the benefits of a generous portion of gel and memory foam to create a medium weight cushion that provides superior comfort (about 3.5 lbs). This one is quite a bit larger than the regular Gseat and requires a little larger seating surface, but if you have the room, the comfort of this one is unbeatable.
The Integrated Handle and foldable design is patented technology that makes the Mobility G-Seat conveniently portable.
---
---
The G-Seat Gel Seat
---
Standard Size
---
Deluxe Mobility
---
Call us at 1 (800) 667-1969 to order*
*We are currently in the process of switching shopping cart software and can only accept orders over the phone for the time being.
---
The seating surfaces we face on a daily basis are often not comfortable. One of our main complaints involves the point of contact where our body weight exerts pressure on the seat of a chair. This often leads to discomfort and fatigue. The G-Seat standard and deluxe Mobility G-Seat model uses visco-elastic gel layered over dense memory foam, as well as a functional design to disperse pressure and improve the level of comfort wherever you sit.
---
---
---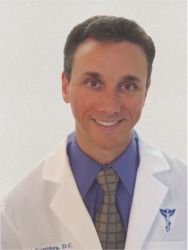 ---
A Doctor's Perspective
"When you sit, you place most of your pressure on your tailbone (coccyx and sacrum) and hip bones (specifically the ishial tuberocities). With the patented opening that the standard G-seat and Deluxe mobility G-Seat have, combined with the extra durable and plush gel/memory foam used throughout the rest of the cushion, pressure is virtually removed from these areas. In my practice, I have found that the Deluxe Mobility G-Seat cushion offers the most pressure relief and will fit any size and weight properly. However, the lighter and thinner standard size G-seat cushion is the perfect solution for lighter weight people or people who just want to improve their posture and seating alignment, as well as improve their overall comfort level, without quite as drastic of an adjustment in their seating".

Dr. Rick Swartzburg, D.C.
---
30-Day Guarantee
---
We're so sure you will love our G-Seat™ that it comes with a 30-day, full money-back guarantee!
---
Read our Guarantee
---