---
Introducing SacroTech™
---
The worlds first support Belt for the LumboSacral region with a Patented Mechanical Advantage*
---
If You Thought that your Back Support Belt Didn't Work…
---
You Were Probably Right!

---
The Problem:
For years doctors have been searching for a way to stabilize the LumboSacral area of the back after an injury or during what is termed as an acute flair-up (an increase of inflammation and tenderness to a past trouble spot). The problem was that no Lumbar belts on the market could offer enough direct compression to allow the joints to stabilize during the healing process.
---
The Solution:
Dr. Rick Swartzburg, D.C. utilized his clinical experience in treating LumboSacral pain and injury patients and merged it with Biocybernetics patented mechanical pulley system to bring you a brand-new belt that uses a patented mechanical pulley system that can actually apply 6Xs the compression to give enough support to the much harder to control area of the both Sacroiliac Joints and L4-L5, L5-S1 vertebrae. This will allow spine to hold its proper alignment and not continue to cause further injury during the healing process.
---
---
---
The unique Patented design will apply a customizable amount of pressure to your sacroiliac and/or lower lumbar region. Simply pull on the side strap to allow the belt to cinch together, thereby applying desirable supportive compression to the sacroiliac joints or lower lumbar vertebrae. The single pull strap uses a mechanical advantage pulley system to give you several times the amount of pressure that you could manually supply to help relieve sacroiliac pain. Once you've added the correct amount of pressure for your needs, simply place the pull-tab on the belt.
---
---
One reason that doctors, therapists and their patients cannot seem to find a Sacro-Iliac Joint belt that works well is because most sacroiliac belts do not add a significant amount of pressure to the Sacroiliac joints without over compressing the whole hips and pelvis. When you over compress the whole of the hips and pelvis, you bring an undesirable consequence of constricting the blood supply. This belt adds pressure to the S.I. joints by using a mechanical advantage system that targets the area between and directly underneath the rear pads of the belt. It does all of this with an easy, one-handed adjustment.
---
---
---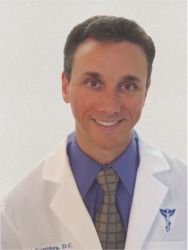 ---
A Doctor's Perspective
"Use of the Biocybernetics Sacroiliac Joint Belt can accomplish what no other Sacroiliac Belt on the market has previously been able to do by actually offering real support to truly lock the S.I. Joints in place during its healing process. This is very necessary after a sacroiliac injury or when the Sacroiliac joints have become inflamed, as any further dysfunctional movement will cause a shearing force and further damage the joints. I have personally seen patients heal faster with use of this belt and noticed that they do not become dependent on the belt once the S.I. joints become stabilized properly over time." Dr. Rick Swartzburg, D.C.
Testimonials
Hi, I purchased your SI belt a couple months ago. At first I was hesitant to spend that kind of money out of pocket, so I waited a month or so, but when you are in pain, you are ready to try nearly anything. Now I'm glad I did spend the money, as it's the best $100 I ever spent!. I have severe back issues, stemming from a 15 ft ladder fall which crushed all my lumbar discs, and then a few weeks later, slipping and landing on the right side of my pelvis, which damaged the SI joint on that side. I have been going to doctors for 2 years, with little relief. Physical therapy didn't work, traction didn't work, massages didn't work, nothing really helped, but usually they made it more painful. I have now been getting epidural nerve block shots for the last 4 months. I just had my 6th one last night. NONE of them work as well getting rid of the pain as your SI belt does when it's adjusted right! I had another SI belt that was prescribed by the doctor, but it was junk. It only compressed my hips, and made things worse, so I finally threw it away.

Thank you!Mike Engel, Michigan
---
The Belt really is the best that happened to my sacroiliac joint inflammation. I was checking my condition with different doctors. I went through pain relieving pills to physiotherapy to injection in the joint. Nothing could help, but with the ingenious belt from you, I can live an almost pain free life. I and my family are very thankful.Daniel Holenstein, Zürich, Switzerland
---
I've been a Physical Therapist for 28 years, specializing in Low Back Pain, Pelvic Floor Rehab, and Sacroiliac joint dysfunctions. I have extensively researched, and tried multiple methods to conservatively maximize the recovery of my patients. Recently I found and have utilized the SACROTECH for external stabilization of the pelvic girdle, and I am amazed!! Our PT staff and patients have experienced WONDERFUL SUCCESS with it! The SACROTECH is wonderfully EFFECTIVE! Patient's report reduced pain, a feeling of security, and improved ease of functional motions immediately! It is convenient, easy to fit and use, not hot or cumbersome, and easy to teach for proper patient compliance. The increased joint stability and reduced inflammation is apparent within just a few days, leading to resolved pain and improved self management capabilities. I highly recommend this product.Jacque Frye, PT
---
SacroTech™ Back Support
---
---
*We are currently in the process of switching shopping cart software and can only accept orders over the phone for the time being.
---
Share SacroTech™ Back Support
---
---
30-Day Guarantee
---
We're so sure you will love our SacroTech™ that it comes with a 30-day, full money-back guarantee!
---
Read our Guarantee
---