---
Original Therapain®
---
Fast-acting pain relief in a safe, natural and effective formula.
---
Herbal properties formulated in Original Therapain® have been well known around the world for centuries Modern Technology combined with ancient practices make Therapain an excellent drug-free alternative for the treatment of common body pain without the fear of drowsy side effects, numbing agents, or re-injury of pre-existing conditions. Therapain is topically applied and can be liberally re-applied as necessary, up to four times daily. Therapain roll-on leaves a temporary fine white film residue over the skin to better trap in the nutrients similar to how a patch would work. The spray formula still uses the unique Therapain delivery system, but without the white patch like residue. Therapain is a safe, natural and effective formula designed to temporarily relieve the symptoms of most common aches, pains, and discomfort associated with arthritis. The benefit of Therapain comes from highly purified natural Menthol and its unique delivery system. The best in the world!
---
Therapain can Be Used to Help Relieve Pain from Ailments Such As:
---
ARTHRITIS,
BURSITIS,
TENDONITIS,
NECK AND BACK ACHE,
SPORTS RELATED INJURIES,
SORENESS,
MUSCLE AND JOINT STIFFNESS,
SPRAINS,
STRAINS
FIBROMYALGIA,
CARPAL TUNNEL SYNDROME
MORNING STIFFNESS

---
Benefits of Original Therapain®
---
Original Therapain® allows Arthritis sufferers temporary relief to pursue daily routines and enjoy more freedom of movement to help speed up the natural healing process. Athletes can use Therapain for warm-up, during and after events. Strength and endurance is enhanced with more confidence. Use Therapain for every day work related soreness and fatigue with a simple spray or roll-on application. The pleasant peppermint smell provides Aromatherapy which is said to promote a feeling of well being and comfort. Anxiety and tension seem to disappear as the pain is reduced. The Therapain formula provides a nerve blocking effect. It is also an analgesic and counter irritant. Therapain provides a soothing cold and then warm feeling that will last from one to five hours depending on the severity of the condition and amount applied. Therapain gradually reaches its full strength in approximately 20 minutes. Enjoy the benefits of Therapain every day. As an added advantage, the unique delivery systems form a protective barrier to keep Therapain working like an invisible and water resistant pain relief bandage. Make sure to liberally apply Therapain over and surrounding the entire painful area. Enjoy the benefits of Therapain every day.
---
Each bottle contains the following ingredients: Natural l-Menthol 7.5%, Isopropyl Alcohol, Water, Peppermint, Eucalyptus, and a natural Skin Conditioner. Read label for directions.
---
---
---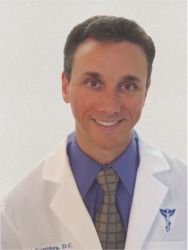 ---
A Doctor's Perspective
Patients tell me that this formula works quickly and lasts longer than other types they have used. Patients who use the roll-on enjoy the benefits of the more concentrated delivery and fine white patch like film coating on the skin, and feel that it works to trap in the ingredients and allow it to penetrate for a longer period of time. The patients who use the spray formula feel that it penetrates quicker and is easier to apply, and does not leave the fine white film coating on the skin. Therapain Plus take this amazing formula one step further by adding MSM and Glucosamine, but if budget is an issue, original Therapain is the next best product for relieving my patients pain fast and effectively! Dr. Rick Swartzburg, D.C.
---
---
Interested in the new Therapain Plus®?
---
Therapin Plus is a new topical pain relieving formula plus Glucosamine and MSM
---
Learn More
---
---
---
Original Therapain®
---
$24.99 – $19.99 On Sale
---
Spray
---
Roll-on
---
Call us at 1 (800) 667-1969 to order*
*We are currently in the process of switching shopping cart software and can only accept orders over the phone for the time being.
---
Therapain is a natural nerve block. That is, a nerve (near the skin surface) can transmit only one signal (i.e.pain) at any given time. When another sensation (Therapain) contacts the nerve, an "amnestic" effect cancels the message of pain going to the brain. Because there is no numbing or drowsy side effects, the concern of re-injury to an existing condition is eliminated. The initial cold feeling of Therapain acts as a cold pack followed by a warming feeling (similar to a heat pad). Because the nerves are confused, this feeling is sometimes described as "tingly". The effectiveness of Therapain can last from 1-5 hours depending on the severity of the condition and the amount of Therapain applied. The more applied, the stronger it gets. The strength is also increased when applied after a warm wash because the pores of the skin are open and more receptive. Add a few sprays to a hot bath or foot soak.
---
Share Therapain® Original
---
---
30-Day Guarantee
---
We're so sure you will love Therapain that we have a special 30-day full money back guarantee!
---
Read our Gaurantee
---