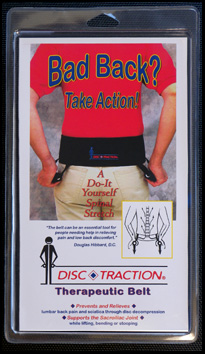 Introducing The Disc-Traction® Belt
What if you could reverse the damage that age, gravity and unnecessary wear and tear has caused to your back, while getting instant relief?
Finally, A Real Solution For Decompressing The Back and offering immediate relief, While Strengthening and Rehabilitating the surrounding muscles and joints.
Why its Simply The Best Solution
---
You Control The Force

One problem that can occur with stationary or static traction devices can be spasming of the spinal musculature when it is not prepared for the separation of the individual joints while these muscles are at a total resting state. However, when the muscles are actively working, the spine is better equipped to handle decompressive forces and can more readily accept position changes. The Disc-Traction is a totally dynamic decompression belt that works with the body, rather than fight against it.

Static Traction vs. Dynamic Decompression

Another problem that can occur with traction devices is the fact that your body may not be ready for the amount of force being applied at that particular time. With the Disc-Traction belt®, you are in control and can choose the amount of pressure that feels right for your body.

Will Allow You To Strengthen The Back, While Relieving Pressure

While it is important to relieve the pressure, ultimately, the goal is always to strengthen the back so you can help prevent future problems before they start. When you purchase the Disc-Traction® belt, you will be given a series of exercises that can be easily performed on a regular basis that will both decompress the spine and help prevent future back pain episode
It is so simple, that anybody can do it!
This patented belt is based on the principle of action and reaction. Downward force applied on the handles of the DISC-TRACTION® therapeutic back belt creates an opposite effect, the uplifting and stretching of the low and mid-back, thus relieving pressure on the vertebrae and decompressing discs and joint structures that support the spinal column. While decompressing the spine is not a new concept (in fact it is one of the oldest and tested true methods), applying this type of force while standing, walking, and/or exercising is really what sets the Disc-Traction Belt apart from all other decompression devices.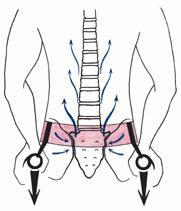 Testimonials
"I first learned about the Disc-Traction® belt when I threw my lower back out while gardening. I couldn't move without assistance and was unable to get to my chiropractor. The minute I started stretching with the belt, I felt relief from the pain and discomfort and was able to get up and down on my own. By the end of that first day, I had my mobility back. However, the real miracle is, since using the belt as a daily exercise, I have been completely free from any lower back stress. I would never consider starting my day without it."
"I have not seen a more simple and effective orthopedic device with so many important benefits. Using the Disc-Traction® belt handle system allows the patient to traction the lower lumbar discs without complicated devices, and at the same time support and stabilize the sacroiliac joint."
"This is the best product of its kind that I have seen on the market in years. To my knowledge there is no other lumbar belt like it. The beauty of your device lies in the simplicity and functionality of its design. It allows the patient to stabilize the pelvis by pressing down on the handles while, at the same time, supporting the lumbar spine in both flexion and lateral bending. The ideal safe at-home treatment."
"This simply designed, portable home-use device is a welcome addition to the array of products targeting spinal compression. Following the simple instructions can assist the user in reducing stress on the lower back."
"Manipulation and massage relieve back pain, but the essential is to teach my patients how to avoid reoccurrence with simple exercises and no risk. DISC-TRACTION® is the IDEAL TOOL. Soon only those who don't have the DISC-TRACTION® belt will come and leave with one."
""I got my Disc-Traction® belt in 2006 and it has become a worthy and steady companion. I use it often and it provides me great relief from the spinal injuries that I suffered as a result of an automobile accident. With it I can control the pain in the SI joint, as well as low and mid-back, and all the way to the cervical area. The use of the belt for support and stretching has long lasting results. It's my way of doing home therapy."treatment."
"I'm a distance runner and often experience lower back pain and stiffness; doing the Disc-Traction® exercises puts me back in the race. The belt is my portable stretching machine. It counteracts gravity, giving me the ideal stretch. I consider it my 3-minute Yoga. I travel with it, to stay in shape and condition my core muscles and my spinal column."
"The Disc-Traction® back belt is my new best friend. It keeps me moving without pain. I also battle stiffness every waking hour of my life. I take frequent breaks to do the simple stretching and breathing exercises that are recommended. It's incredibly satisfying to get that full stretch in. The Disc-Traction® back belt fits my lifestyle but more importantly it helps to keep me limber and moving. I recommend it 100% to anyone who needs a simple, effective self-help tool for treating their back pain."
"Thanks to the inspired vision of its inventor, the "belt with handles" is changing my ability to walk. With controlled pressure on the handles and simple body movements, the belt helps to decompress my spine, restoring it to its natural alignment. It has helped me to gradually walk longer distances. As a teacher, and without reservation, I give this belt and its creator an A+."
"After I lift heavy weights at the gym, my spine feels compressed. I use my Disc-Traction® to relieve the pressure on my spine and to regain full flexibility and it makes my back feel as though it's new again."
"It's amazing how little effort it takes to gain the benefit and relief from Disc-Traction® belt. My first experience brought instant relief. Stretching with the belt for back fatigue after long distance driving really helps."
"Disc-Traction® back belt has been very helpful in relieving my back pain suffered as a result of a fall. I am very grateful for the help received."
"I have had my Disc-Traction® back belt for about two months. It relieves the chronic pain in my lower back and I can walk better as I use it according to the instructions. I would recommend it to anyone with back problems."
"The belt has really helped me with getting rid of chronic back pain I've suffered for many years. It is amazing this invention of yours can bring such relief. I've recommended this wonderful belt to many of my friends."
"Anything I can do to condition my back muscles and spine to avoid the very painful back problems I've had is a boon to me. Disc-Traction® has helped me tremendously, especially when used each morning. Disc-Traction® works!"
"Disc-Traction® back belt has saved my life. I can walk and do house chores without pain. This belt is wonderful!"
"After hours working at the computer, my creaking back talks to me. I just put on my Disc-Traction® back belt and the pain goes away. Not only that, my posture improves."
"My lifestyle includes long-boarding, body surfing, volleyball, golf, high country backpacking, Frisbee golf, carpentry, plumbing, and electrical work. Not only did the Disc-Traction® belt relieve my lower back pain by aligning my vertebrae, but also I stretch with the belt daily to prevent injury. I even wear the belt while doing heavy lifting."
"I do hard work for a living and whenever I strain my back, I use the back traction belt for a few minutes a day and I feel immediate relief. I would recommend that anyone with back pain give this a try."
"I have a sciatic nerve condition and couldn't have my therapist with me at all times, but I sure can have the belt. It brings me great relief and I use it often. Many times I can't stand up without it. Thanks again."
Frequently Asked Questions
How often should I exercise with the belt?

You can exercise with the belt as often as you want during your daily activities. Many use it several times a day to decompress their spine while others on an "as needed" basis. The best advice is – once you have found relief – exercise a few times a week for prevention and enjoy the stretch it provides. Some have called DISC-TRACTION® "the five-minute Yoga."

How long can I wear my belt?

You can wear the belt all day for support and use the exercises for stretching as needed. The belt can be worn discretely under clothing.

How long does it take to feel results?

This depends on the nature and origin of your discomfort. Relief can be immediate. A 26-year old man was referred to our booth at the Paris trade show with severe sciatica, and as soon as he used the belt his smile came back for the first time in months. In cases of sacroiliac joint discomfort, the belt is used for active support and repeated and longer use can show better results.

Does the belt help with sciatic conditions?

An example of this is the young man mentioned above; at the Paris trade show he experienced instant relief after doing his stretches with the belt on, this is one of the many testimonials from other users. However, there are many causes for sciatica, so please check with your doctor if you are unsure if decompression is the right choice for your situation.

Which of the exercises should I do?

All five exercises can be effective. You can perform the series of five or just the ones that give you the greatest benefit and you can do comfortably.

Can I use the belt while walking, jogging or playing sports such as golf?

Yes. At DISC-TRACTION®, we have a slogan, "don't get caught without it!" Its the ideal tool for preventing injuries to the lower back during any kind of sports activity. The belt is instrumental for correcting posture and alignment and could even improve your game.

My doctor recommended underwater exercises to stretch my back. Can I use the belt in the pool?

Yes. Under water you're weightless and there is no compression to your vertebrae. Those conditions can make the belt even more effective. Water won't damage the belt. Just hang it out to dry.

Is there any age limit for use of the belt?

No. We have users of all ages, from under 21 to seniors way up in their 80's.

I don't have lower back pain but tension in my upper back and shoulders. Could the belt help?

Yes. While using the belt, your shoulders move back and your stance improves. Many users find relaxation in those areas.

Could the belt help lordosis and scoliosis?

These are progressive abnormal curvatures of the spine and the belt may help slow these conditions down by repeated stretching of the spine. The user should consult their treating practitioner in such cases.
A Doctor's Perspective
"When I was first introduced to the Disc-Traction belt, I was hopeful that it would fill a void missing in home spinal decompression products that could be performed by the user while in motion. This was so important, as studies show that introducing flexibility during therapy speeds up the healing time and can help make a permanent recovery, as well as strengthen the weakened areas. The Disc-Traction belt may look simple, but to my surprise, the Disc-Traction belt was not only able to instantly take pressure off my patient's back pain, but it also acts as a complete rehabilitation device for the low back to strengthen and increase flexibility for a permanent solution when used with the accompanied exercise." Dr. Rick Swartzburg, D.C.
$39.95
The Patented Disc-Traction® Belt Design Offers Real Solution For Decompressing The Spine, While Strengthening and Rehabilitating the surrounding muscles and joints.
Description
Introducing The Disc-Traction® Belt
What if you could reverse the damage that age, gravity and unnecessary wear and tear has caused to your back, while getting instant relief?
Finally, A Real Solution For Decompressing The Back and offering immediate relief, While Strengthening and Rehabilitating the surrounding muscles and joints.