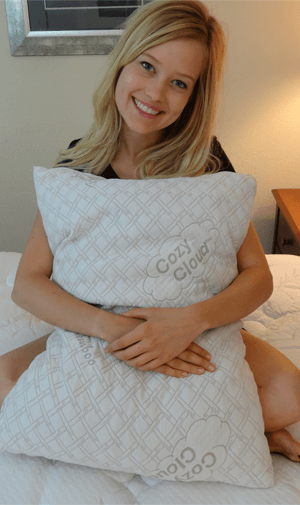 Shaped like a regular down pillow,
-but stuffed with hundreds of small pieces of the softest high density, non-temperature sensitive
U.S. made memory foam,
The CozyCloud™ memory foam pillow is quite simply the most comfortable pillow you will ever own! Made in a 27 inch width, this queen size pillow will cradle your body in only the way that high quality memory foam can, but return back to shape. Unlike Down pillows, the CozyCloud™ pillow does not need to be fluffed and will offer you extra support with its superior contouring abilities. Covered in a fine Kool-Flow™ micro-vented cover, the CozyCloud™ pillow is completely machine washable, making it the most versatile and coziest pillow available. Don't accept cheap filler or overseas made substitutes… order the original CozyCloud™ pillow today!
Features of the CozyCloud™
Air-Vent ™ Heat Reducing Cover Fabric That is Soft, Breathable and Made In The U.S.A. Contains 40% Visose of Bamboo, 60 percent Polyester In a Breathable Matrix For Better Airflow Exchange.
Made in USA
Chiropractor created and recommended for proper neck support and spinal alignment With FREE PERSONAL CUSTOMIZATION If Unsatisfied!
Conforms to your individual size and adaptable to all sleeping positions (side, back and stomach)!
The CozyCloud is the newest & coziest feather like High Density Memory Foam Pillow that is luxuriously soft & heat reducing.
MADE IN USA From Top Quality Bedding Grade CertiPur-US Certified Foam With No Flame Retardants Added. We ONLY USE CertiPUR-US® Certified foam tested and shown to be MADE WITHOUT ozone depleters, PBDE flame retardants, mercury, lead and other heavy metals, formaldehyde, without phthalates regulated by the Consumer Product Safety Commission and Low in VOC (Volatile Organic Compound) emissions for indoor air quality (less than 0.5 parts per million).
HYPOALLERGENIC & FULLY MACHINE WASHABLE – Extremely Durable 100% Made In USA Memory Foam and Bamboo Covering with 10-YEAR WARRANTY –
Does Not Need To Be Fluffed. Our new pillows will have our trademark CozyCloud logo on the fabric and the tag will always say CozyCloud.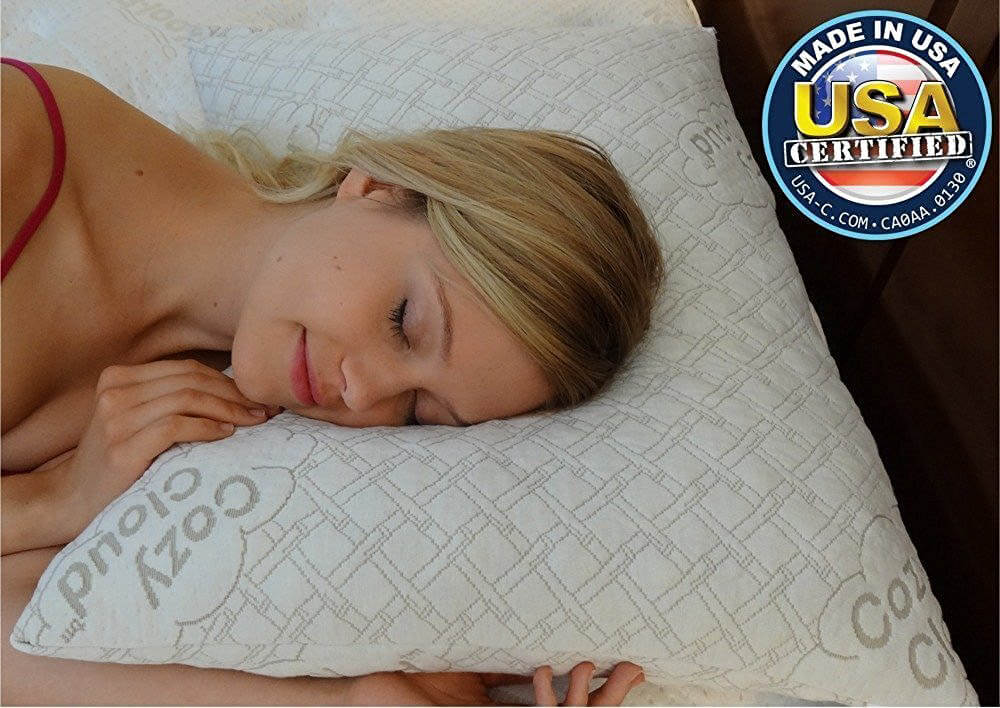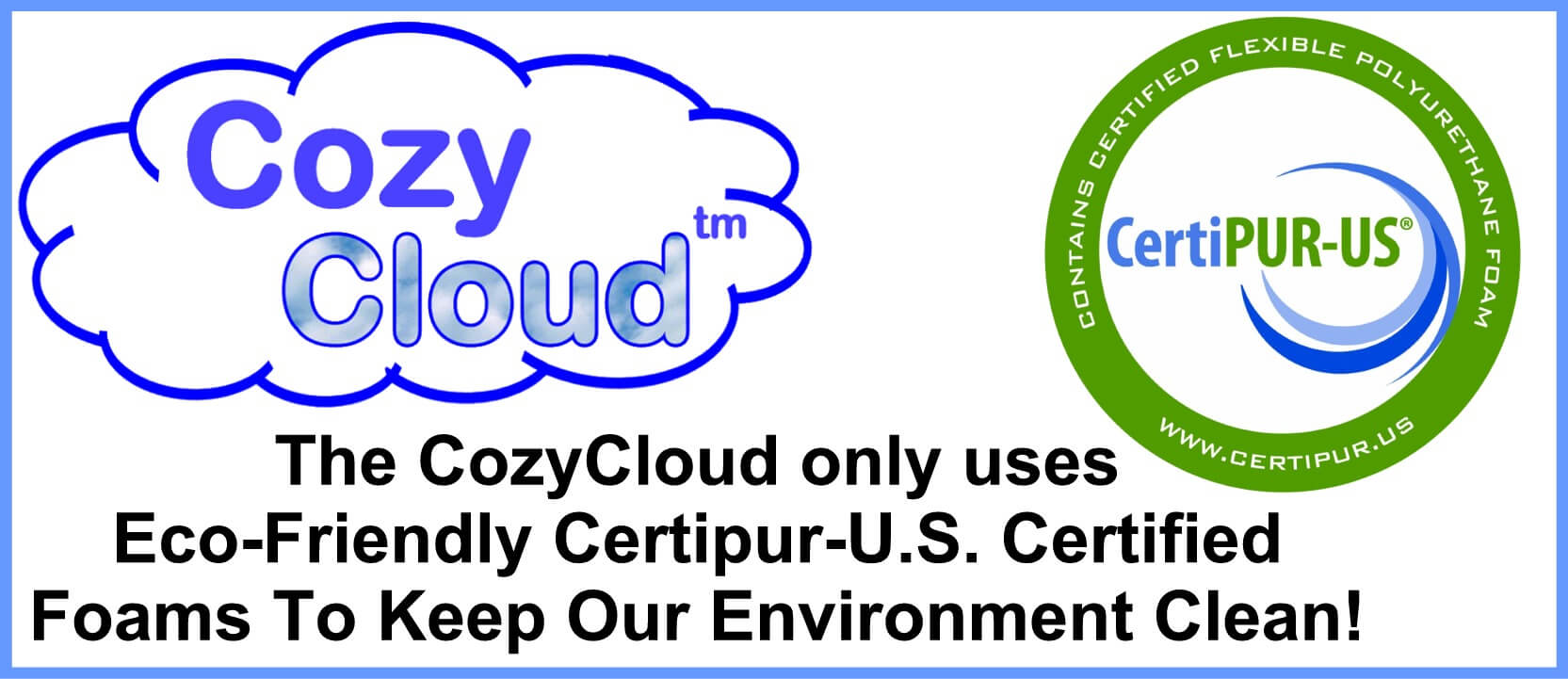 I would have paid $500 for this pillow
his pillow…..nothing short of a miracle. I had a car accident a few years ago that left my neck in a mess. It flares up, I'll go for weeks, months waking up with it burning. Sometimes it's so bad I'm confined to a bed or couch. The first night I laid my head on this pillow, I nearly started crying tears of joy from the relief I got. The next morning I didn't want to get out of bed because my neck was actually relaxed.
Super comfortable pillow
Super comfortable pillow. The shredded foam adjust for any position. Going to buy a second one for my wife. Dryer worked great to fluff it upon arrival. Would highly recommend this pillow. Update: Bought a second pillow and it is just as great as the first!
Amazing Pillows
I'm very happy with the product, very comfortable with great quality and I will continue doing business with CozyCloud. The staff are very nice always ready to answer questions, concerns and specially to make sure that I was happy with the pillows. The pillows are great and now I can guarantee that I found the right pillow that makes me sleep comfortable and wake up in the morning with a lot energy and just to make this clear they re not paying to post this review and I'm not a fake profile. I'm just a happy costumer. Thanks Alan
The best pillow I have ever purchased. Pleasant dreams!
The best pillow I have ever slept on, period. Glad I purchased two of them. Gives excellent support to your head and neck. So soft and cozy, yet firm enough to provide the support you need for a good nights sleep. Only drawback is when you first get it, it takes forever to open the package, as it is encased in plastic tape, and a couple of plastic bags. The pillows are vacuum sealed, and all the air is removed- and comes tightly rolled like a sleeping blanket. – you'll need to let the pillows expand in the air for about 30 -60 minutes before using. The pillows are dense, yet so soft when you sleep on them. Was quite surprised at the high quality of workmanship too. I recommend these pillows for a great nights sleep. Zzzzzzzz pleasant dreams!
Neck & migraine issues much improved with this pillow
I suffer from a LOT of neck issues and migraines. I need a very specific pillow that offers support but not too flat. If it is too big – neck pain/migraine. If it is too flat – a little better, but annoying. I really need something that offers support and holds it. I was skeptical about this pillow as I have tried other memory foam pillows, but it has been great. I have had minimal sleeping issues, sleep well, and don't have migraines or neck pain. It is just the perfect balance for support. I was going to get the "My Pillow" that was on TV commercials but read so many negative reviews I opted for this. I am glad I did. I have tried all sorts of pillows – memory foam, side sleeper, silk fill, down fill, buckwheat, waterbase. The buckwheat was the best. This one is better.
Great Pillow!
The pillow came compressed from being vacuum-sealed but I put it into the dryer with a couple of fabric softener sheets and in 15 minutes it was all puffy and smelled great. The Pillow is very comfortable–so much so that I don't toss and turn as much as I used to. The pillow gives great support and cradles your head for a sound sleep. I highly recommend.
Pillow
Best pillow I've bought! I was skeptical when I first opened it, because it was rolled up and I thought it was going to be too thin. Wrong! It's the most comfortable pillow I have ever slept on. I have ddd, spinal stenosis, Fibromyalgia, Severe Arthritis and Periferal Neuropathy. This pillow is a welcomed relief! I would recommend it to anyone! 3 people found this helpful
Best Pillow I've Ever Owned. Fantastic!!!
Absolutely LOVE this pillow!!!!!! There isn't enough time or room for me to describe just how much I love this pillow! It's well worth the price! As a matter of fact, I'd gladly pay double the price to have it! I've owned a lot of pillows, but this one far supercedes any of them. I love the fact that it's made in America, and of high quality materials. It ships to you shrink wrapped, and rolled up into a cylindrical shape. The moment you open the wrapping, the pillow begins to expand and take shape. You need to give it a few minutes for this to happen. I love the fact that the whole thing is machine washable! I just toss it in our washing machine on the gentle cycle and dry it on low heat. I've found that it takes quite awhile to dry. (At least for me) I dry it for about 120 minutes. When it comes out of the dryer, it's soft and fluffy and absolutely cuddleable! You just want to bury your face in its softness and smell the wonderful clean smell of your laundry soap. I use the Downy Unstoppables Scent Booster pellets when I wash my pillow. It makes it smell great for weeks and weeks. I honestly can't say enough good things about this pillow. Because the memory foam is in pieces, inside the pillow, you can mold it any shape and make sleeping a joy! I've had neck and back surgeries, and until I came across this pillow, I had never been able to find a pillow that not only supported by neck, but was soft and seems to form to my body, but not in a rigid way. Regular memory foam pillows are stiff and uncomfortable. This pillow is like sleeping on a cloud. The outer shell is made of bamboo and stands up to the test of time. It's also breathable, so you don't end up with a hot and sweaty neck. Upon first opening the pillow, you may notice a very slight odor. But one wash in the washing machine and that odor is permanently gone. This is one fantastic pillow! You won't be sorry you bought it!
Quality and Comfort!!!
Is gushing allowed. I bought this for my husband who is not particularly animated, actually deadpan is more his speed. When the pillow came, I took it out of its plastic (isn't there ANY other, more green way to package these?) and let it fluff up as directed in the lovely email I received from CozyCloud the morning of delivery. It took some time as I was told it would before it really started to plump. But I wanted to speed up the process, so as instructed in the email, I threw it in the dryer. When I took it out it was perfect. I thought it was extremely comfortable and would have loved sleeping on it myself. (long story, can't sleep in a bed right now). I only noticed a faint smell and that may have been from the plastic, not the pillow itself. Now back to the deadpan husband. When he came home I showed it to him and of all things he decided to try it out then and there. When he laid his head down a look of true bliss came over his face. He really didn't want to get up. It has been about a week and he continues to love the pillow and his problems seem to be going away. He had been experiencing clicking in his neck in the mornings and this is what prompted me to buy this pillow. He says that the clicking is starting to diminish and he feels more well-rested despite 14 hour days. Because my husband sleeps on his arm with the pillow all squished up, it provides the neck support he was missing with the other cervical type pillow he was using before. I think this provides him with the ability to sleep in a much more natural position for him. It was a great choice and I plan on buying one for myself as soon as I can sleep in a bed again. Loved this company's emails and customer service.
Will not sleep with out it.
My roommate got one of these pillows and raved about it. I used his one day while he was gone and had to order one. I'm a side sleeper, if I could sleep on my back I don't know if I would. Came with instructions on how to puff it up. And the company even send and email about how to do so. It does come pressed flat and rolled up.
Feels 'cool', is comfortable and seems durable…
We received this pillow compressed, rolled up and wrapped in clear plastic. We unpackaged using our fingers since a knife or scissors could damage the material. We unrolled and "fluffed" the pillow, then placed it in the dryer for twenty minutes… this fluffed the pillow a bit more. The slight foam aroma disappeared after a few days of use. The material feels durable. The pillow may be set as soft or slightly firm depending on how you fold and position it. It is supportive and comfortable and feels 'cooler' than other pillows. It also is good for placing under your back when exercising or stretching on the floor to reduce lower back pain. I recommend this product. 2 people found this helpful.
Definitely worth the money!!!!
I woke up with such a neck ache last week, that I literally bought this new pillow within five minutes of waking up. Now that I have gotten it and used it for a few nights, I see why it has such great ratings! I was weary because I like a firmer pillow because of my herniated discs, but this is surprising firm…but still soft, if that makes sense. Love it!!! 2 people found this helpful.
LOVE this pillow!!!!!!!
I was a little shocked when the pillows arrived, because they are vacuum packed and flat as a pancake. When you open them up, it takes about an hour or so but fluff right up. The best nights sleep I've had in forever!!!!!
Best Pillow Ever
I received this as a gift and since I got it I have slept on it every night. I absolutely love it. It is heavy but it is also gives me the support I need while at the same time it allows me to punch a hole right where I want to lay my head, which keeps my ear from getting smashed. I cannot imagine NOT having it a single night. I am planning to order a second one to put behind me, I am a side sleeper, to support my back and keep my spine straight. I highly recommend this product.
Foam Pillow
Yay! I finally got a good night sleep! This Bamboo Memory foam pillow is made in the U.S.A. It is a queen and has a 10 year warranty. It is machine washable and dry on low. It does not need to be fluffed. The Bamboo covering is really cool looking and keeps me cool at night. It is great for my spinal alignment my doctor said. Love it! It is a five star rating for sure. All I care about is I finally get a good night sleep and I no longer have head aches. Yay for that! I received this amazing Bamboo pillow for free or for a discount in exchange for my unbiased review. 2 people found this helpful.
Awesome product
The pillow came packaged as described. It was a bit hard to get it out of the vacuum sealed plastic wrap, but then again, it was a convenient way to ship it. The faint smell dissipated after a few days (I did not feel like washing it right away, as suggested by the company that makes it). I took some time studying the various alternatives before buying this product, but I am absolutely happy with it and glad I made the right choice.
Works great
This pillow is a definite must if you are a side sleeper or like to have your pillows prop you up to watch tv. I've always had to use 2 pillows and with this pillow I was able to use just one. Much easier to handle throughout the night. This pillow came all rolled up tight and without the email explaining or the reviews explaining that it would fluff up, I would have been concerned. It took a little over 3 hours for the pillow to plump up to normal size and I didn't notice any different smells or odors. Overall I really like the pillow and hope it will hold up over time .
Soft and comfy with great support!
I used to sleep on a buckwheat pillow until it gave me a neck strain so I started searching on Amazon for a foam pillow. I came across with this shredded foam pillow with great reviews so I decided to give it a try. The pillow is very soft and comfy yet firm enough when I sleep on the side (I'm a side sleeper), so I can adjust the pillow easily to fit my need. One thing I'd like to note, when I first received the pillow, I was using an all-cotton pillow case but somehow I wake up with a sweating head and neck. Although the whole pillow can be washed in the washing machine but I still prefer to have a pillow case so I can just wash the case itself from time to time. Then a few days later, I received an email from the seller offering me a free pillow case as long as I give a review for the product so I said yes, thinking maybe their pillow case will help the situation. The pillow case I received is made exactly the same material as the original pillow cover which is bamboo fabric. And after just one night of testing, I wake up with no sweating at all! The bamboo fabric is cooler than the cotton cover. Also, the communication with seller is great. The first pillow case they sent has a bad zipper, and after emailing them with pictures about it, they sent a replacement right away. So overall, I'm very happy with the product and a great seller to deal with.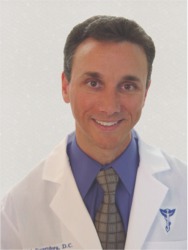 A Doctor's Perspective
The CozyCloud pillow is perfect for those sleepers who want a traditional shape design and a softer feel, but want the extra support that comes with a higher grade memory foam. With the extra soft memory foam pieces that hold its shape properly, you won't have to worry about a loss of support. It will work for all sleeping positions and can even excel for back sleepers, so long as you position the pillow under the lower cervical (neck curve) by grabbing the pillow on both sides and pulling it downward. I usually do not recommend traditional shaped pillows, since they tend to push the neck up and out of alignment or have to be constantly fluffed to work properly, but the CozyCloud is the first traditional shape pillow that I have tested that is soft enough, yet supportive enough to really work well for all types of sleepers." Dr. Rick Swartzburg, D.C.
Sale!
$99.99 – $119.99
The CozyCloud offers the coziest and conforming bamboo shredded memory foam combination support system for all traditional shape pillow lovers alike!
Description
Shaped like a regular down pillow,
-but stuffed with hundreds of small pieces of the softest high density, non-temperature sensitive
U.S. made memory foam,
The CozyCloud™ memory foam pillow is quite simply the most comfortable pillow you will ever own! Made in a 27 inch width, this queen size pillow will cradle your body in only the way that high quality memory foam can, but return back to shape. Unlike Down pillows, the CozyCloud™ pillow does not need to be fluffed and will offer you extra support with its superior contouring abilities. Covered in a fine Kool-Flow™ micro-vented cover, the CozyCloud™ pillow is completely machine washable, making it the most versatile and coziest pillow available. Don't accept cheap filler or overseas made substitutes… order the original CozyCloud™ pillow today!