---
You Don't Have to Live With Pain™
---
By Dr. Rick Swartzburg, D.C.
---
---
Have you wondered why some exercises help relieve pain and prevent injury, while others can actually contribute to irritating the body further?
---
Maybe you've heard of natural supplements like Glucosamine and MSM,
but what do they really do?
---
These questions and much more are explored and explained in this new book by Dr. Rick Swartzburg, D.C.
---
---
In this book Dr. Rick Swartzburg D.C. has compiled information from current research, as well as adding his own insight and personal knowledge from treating over 3,000 patients in his 10-year practice experience. The 46-page online version of his printed book gives you a substantial savings off the normal cover price, not to mention the paper and printing resources our environment could use to not waste. After purchasing your online copy, it only takes a moment to open the file up and get started reading your copy.*
---
*After purchasing You Don't Have to Live With Pain, you will be sent an email that will give you a link to the page on our website where you can easily open and save a copy of the e-book to your computer where you can then print out a copy to take anywhere you want. If you would like to purchase a printed out version of the online book, see below.
---
About You Don't Have to Live With Pain™
---
---
In this book Dr. Rick Swartzburg, D.C. has also put together 22 very easy to understand stretches and strengthening exercises of the upper and lower body that can be done on a regular basis to help increase overall flexibility and help prevent many irritating repetitive and accumulative conditions such as Carpal Tunnel, Tendonitis, TMJ Dysfunction, Back Spasms and Strains, Bursitis, Degenerative Disc Disease, and Degenerative Arthritis. There are even chapters that explain why people get conditions such as Fibromyalgia and what they can do about it.
---
Excerpts

---
"Stretching is essential to lengthen any shortened muscular tissue of the to help prevent further pulling on the already shortened fibers. Strengthening exercises help to build stability to weak tissue."Excerpt from Chapter 9 of You Don't Have to Live With Pain
"Interruption of sleep has been linked to chronic muscle conditions such as Fibromyalgia and has been demonstrated to reduce healing of the body for all types of conditions. Research has shown that sleep interruption, especially working the "graveyard" shift, can increase the risk of developing cancer by up to 60%."
-Excerpt from Chapter 1 of You Don't Have to Live With Pain.
---
---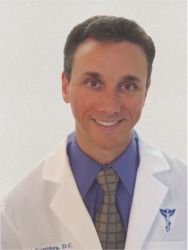 ---
A Doctor's Perspective

"So many times, I have seen a new patient walk into my practice thinking that there were no solutions to their problems, but rather just a possibility of some relief. As a problem solver, I love seeing this kind of patient, because I know I can make a difference. With this book, it is my sincere hope that I can make a difference in the lives of pain sufferers, as well as solution minded wellness seekers around the world." Dr. Rick Swartzburg, D.C.
---
30-Day Guarantee
---
We're so sure you will love You Don't Have to Live with Pain™ that it comes with a 30-day, full money-back guarantee!
---
Read our Guarantee
---